Public Page
Follow
Joined on October 10, 2012
News
:
Baha'i poet Mahvash Sabet, who was jailed for nearly a decade in Iran, has been selected as the 2017 International Writer of Courage.
Sabet was one of seven Baha'i leaders arrested in 2008 and convicted of espionage and spreading propaganda against the clerical establishment.
She was released in September.
Baha'is face state persecution in Iran where their faith is not recognized in the country's constitution.
news:
New Zealand's official election results have seen the country's first-ever refugee elected to Parliament.
Ms Ghahraman has a lot to celebrate - she's making history. When she's sworn in as an MP, she'll be New Zealand's first refugee to do so.
The Green MP is a human rights lawyer by trade and has an impressive record, taking on war criminals from Cambodia and Yugoslavia at The Hague.
"My childhood was marred by war and repression and my parents weren't willing to raise a little girl in those conditions so they escaped," Ms Ghahraman told media.
"That place was Iran, which had been gripped by Revolution and taken over by a repressive regime that targeted minorities."
The Norwegian Nobel Committee
has decided to award the Nobel Peace Prize for 2017 to the International Campaign to Abolish Nuclear Weapons (ICAN).
Till this minute, the murder count has reached 50 in LOST Vegas mass murder.
Condolences to America, condolences to humanity, BAN the goddamn assault guns/ murder machines in America.
President Trump has signed the 3rd version of his visa ban for citizens of eight countries, Chad, Iran, Libya, North Korea, Somalia, Syria, Venezuela and Yemen.
His previous executive orders were all challenged by U.S. Courts, undoubtedly this one will be challenged as well, so will the 4th, 5th, ....times.
On September 17, 1992, Islamist fascists- "reformers" and all- carried out the assassination of several Iranian-Kurdish opposition leaders in Germany.
Islamist fascists' Ambassador to Germany at the time of murders is now living in U.S. lobbying for Islamist fascists.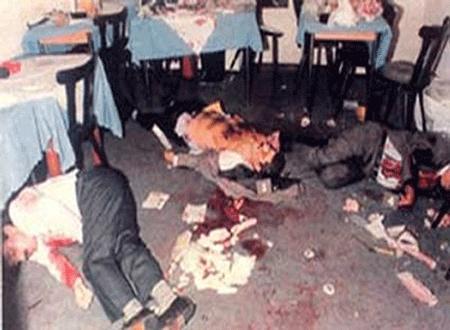 Iranian women who got into stadium in Tehran, where they are banned, had to carry Syrian flag.
In Iran: Air-freshener with scent of martyrs
Fred |

11 minutes ago
0
2